'Blue Bottle Mystery – an Asperger Adventure' by Kathy Hoopman
This is a warm, fun-filled fantasy story for children with a difference: the hero is Ben, a boy with Asperger Syndrome. When Ben and his friend Andy find an old bottle in the school yard, they little realize the surprises about to be unleashed in their lives. Bound up with this exciting mystery is the story of how Ben is diagnosed with Asperger Syndrome and how he and his family deal with the problems and joys that come along.
Blue Bottle Mystery is a delight to read that is more than just another kid's book. For the first time, the issues and frustrations that a child may have with Asperger Syndrome are explored within a fictional format especially for children. Its portrayal of Ben as the central character offers other children with autistic spectrum disorders and their peers a positive role model. It is a valuable teaching tool that demystifies children with Asperger Syndrome, justifying their individuality as valid and interesting.
In Blue Bottle Mystery Kathy Hoopmann has combined her love of children with her passion for fantasy literature to produce a delightful read for anyone who loves an adventure and wants a unique insight into the mind of an Asperger child.
'Do You Speak Chocolate' by Cas Lester
A story of friendship, laughter … and more than a little chocolate
'Do you speak chocolate?' Jaz has found the best way to make friends with new girl Nadima, who doesn't speak any English – by offering her a chocolate bar. Nadima grins and offers back some Turkish Delight, the ice is broken, and a special friendship begins …
Jaz is outgoing, rebellious, gumptious and a little bit bolshy – but it doesn't stop her from finding it hard that she doesn't have a best friend at school any more. Not since Lily went off with Kara … She's not one to get down about things, though – and things start to look up when Nadima comes into their classroom. Before long the girls are firm friends, even when Nadima, recently arrived from Syria, can't speak much English. The path of true friendship doesn't run smooth, though … Jaz, ever the entrepreneur, cooks up a plan to sell Turkish Delight at school, with disastrous results. A drama project with Nadima about family history proves impossible to manage. And Charity Challenge Week puts the icing on the cake as Jaz puts every foot wrong possible. Can she find a way to put things right, and restore the wonderful and unique friendship that she has with Nadima?
In a story of friendship, family and entrepreneurial wizardry, Cas Lester deftly navigates the trials and tribulations of girlhood, and examines with the lightest of touches and gentle humour the thorny and compelling issues of integration, belonging and identity.
'Kick' by Mitch Johnson
Budi's plan is simple…
He's going to be a star, instead of sweating over each football boot he makes, each stitch he sews, each box he packages. He's going to play for the greatest team on earth, rather than in the square behind the factory where he works.
But one unlucky kick brings Budi's world crashing down, because now he owes the Dragon, the most dangerous man in all Jakarta. Soon it isn't only Budi's dreams at stake, but his life.
A story about dreaming big, about hope and heroes, and never letting anything stand in your way…
'The Black Lotus – The Samurai Wars' by Kieran Fanning
Ghost, Cormac and Kate are junior recruits of the Black Lotus, a school for ninjas – they are not like other kids. Ghost can turn invisible, Cormac can run up walls and Kate can talk to animals – all abilities which make them perfect recruits for the Black Lotus, a training school for ninjas.
But when the Moon Sword – a source of unimaginable power – is stolen by samurai, the three must put their new skills to the test and battle through sixteenth-century Japan plus present-day New York to stop a power-hungry shogun from destroying the city.
'Two Truths and a Lie' by Ammi-Joan Paquette & Laurie Ann Thompson
'Two Truths and a Lie' is the first book in a fascinating new series that presents some of the most crazy-but-true stories about the living world as well as a handful of stories that are too crazy to be true – and asks readers to separate facts from fakes!
Did you know that there is a fungus that can control the mind of an ant and make it do its bidding? Would you believe there is such a thing as a corpse flower – a ten-foot-tall plant with a blossom that smells like a zombie? How about a species of octopus that doesn't live in water but rather lurks in trees in the Pacific Northwest?
Every story in this book is strange and astounding. But not all of them are real. Just like the old game in this book's title, two out of every three stories are completely true and one is an outright lie. Can you guess which? It's not going to be easy. Some false stories are based on truth, and some of the true stories are just plain unbelievable. And they're all accompanied by dozens of photos, maps, and illustrations. Amaze yourself and trick your friends as you sort out the fakes from the facts!
'What Elephants Know' by Eric Dinerstein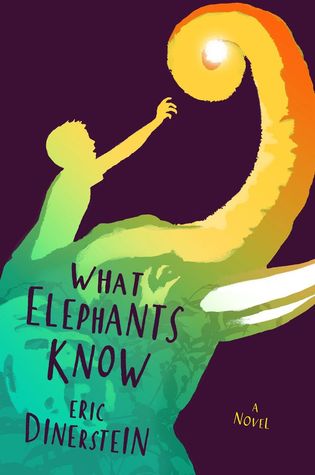 Abandoned in the jungle of the Nepalese Borderlands, two-year-old Nandu is found living under the protective watch of a pack of wild dogs. From his mysterious beginnings, fate delivers him to the King's elephant stable, where he is raised by unlikely parents-the wise head of the stable, Subba-sahib, and Devi Kali, a fierce and affectionate female elephant.
When the king's government threatens to close the stable, Nandu, now twelve, searches for a way to save his family and community. A plan to reinvent the elephant stable could be the answer. But to succeed, they'll need a great tusker. Their future is in Nandu's hands as he sets out to find a bull elephant and bring him back to the Borderlands.
In simple poetic prose, author Eric Dinerstein brings to life Nepal's breath-taking jungle wildlife and rural culture, as seen through the eyes of a young outcast, struggling to find his place in the world.