'Fish Girl' by David Weisner & Donna Jo Napoli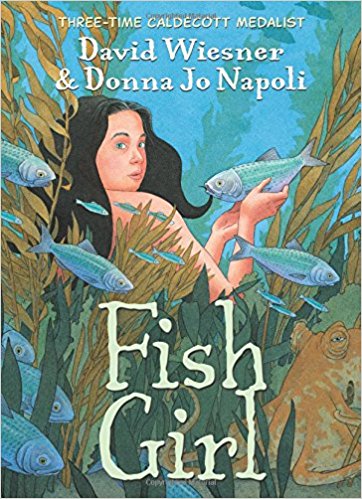 'Fish Girl' is a unique coming-of-age tale that begins underwater. A young mermaid, called Fish Girl, in a boardwalk aquarium has a chance encounter with an ordinary girl. Their growing friendship inspires Fish Girl's longing for freedom, independence, and a life beyond the aquarium tank. Sparkling with humour and brilliantly visualized, Fish Girl's story will resonate with every young person facing the challenges and rewards of growing up.
'Island' by Nicky Singer
Cameron travels unwillingly to Herschel Island in the Arctic with his scientist mother. He's prepared for ice and storms and, stripped of his smart technology, possibly boredom. But he's not prepared for 24-hour daylight and erupting graves! His experiences there lead to him 'seeing things in a different light' literally and figuratively. This is due to his friendship with a local Inuvialuit girl who, urged on by her shapeshifting grandmother, introduces him to the culture of her people and shows him how the intervention of Western people continues to destroy their way of life and the environment. The relationship between Cameron and his mother, who is unable to see Inuluk, is a focal point in the novel, and this personal story is interwoven with the strong ecological theme.
'One of Us is Lying' by Karen M. McManus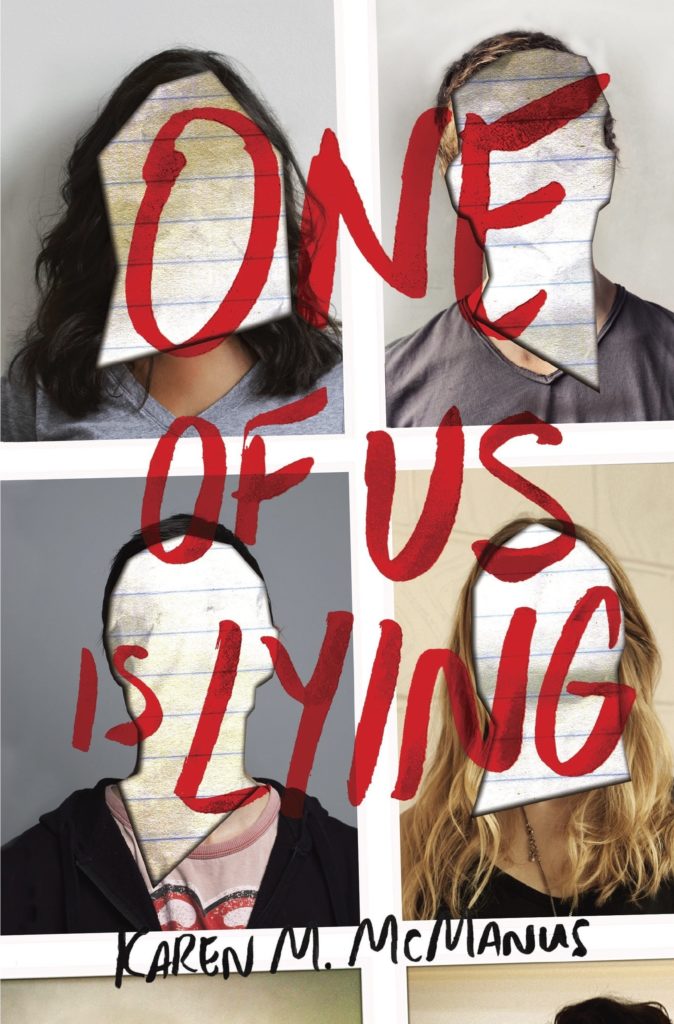 'One of Us is Lying' is a story of what happens when five strangers walk into detention and only four walk out alive. 
Pay close attention and you might solve this.
On Monday afternoon, five students at Bayview High walk into detention.
Bronwyn, the brain, is Yale-bound and never breaks a rule.
Addy, the beauty, is the picture-perfect homecoming princess.
Nate, the criminal, is already on probation for dealing.
Cooper, the athlete, is the all-star baseball pitcher.
And Simon, the outcast, is the creator of Bayview High's notorious gossip app.
Only, Simon never makes it out of that classroom. Before the end of detention Simon's dead. And according to investigators, his death wasn't an accident. On Monday, he died. But on Tuesday, he'd planned to post juicy reveals about all four of his high-profile classmates, which makes all four of them suspects in his murder. Or are they the perfect patsies for a killer who's still on the loose?
Everyone has secrets, right? What really matters is how far you would go to protect them.
*** PARENTAL NOTE ***
This book contains mature content as well as exploring sensitive issues pertaining to health, well-being and suicide. We highly recommend that it is read in the context of a supportive family or school framework, enabling the sensitive discussion of these topics.
'Rail Head' by Philip Reeve
Come with me, Zen Starling, she had said. The girl in the red coat. But how did she know his name?
The Great Network is a place of drones and androids, maintenance spiders and Station Angels. The place of the thousand gates, where sentient trains can take you anywhere in the galaxy in the blink of an eye. Zen Starling is a nobody. A petty thief from the filthy streets of Thunder City who aimlessly rides the rails of the Network. So when the mysterious stranger Raven offers Zen a chance to escape the squalor of the city and live the rest of his days in luxury, Zen can't believe his luck. All he has to do is steal one small box from the Emperor's train with the help of Nova, an android girl. But the Great Network is a hazardous mess of twists and turns, and that little box just might bring everything in this galaxy – and the next – to the end of the line. The highly anticipated novel from Carnegie-medal-winning author Philip Reeve, Railhead is a fast, immersive, and heart-pounding ride perfect for any sci-fi fan. Step aboard – the universe is waiting.
'The Girl from Aleppo: Nujeen's Escape From War to Freedom' by Nujeen Mustafa with Christina Lamb
Nujeen Mustafa has cerebral palsy and cannot walk. This did not stop her braving inconceivable odds to travel in her wheelchair from Syria in search of a new life. Sharing her full story for the first time, Nujeen recounts the details of her childhood and disability, as well as the specifics of her harrowing journey across the Mediterranean to Greece and finally to Germany to seek an education and the medical treatment she needs.
Nujeen's story has already touched millions and in this book written with Christina Lamb, bestselling co-author of 'I Am Malala', she helps to put a human face on a global emergency. Trapped in a fifth floor apartment in Aleppo and unable to go to school, she taught herself to speak English by watching US television. As civil war between Assad's forces and ISIS militants broke out around them, Nujeen and her family fled first to her native Kobane, then Turkey before they joined thousands of displaced persons in a journey to Europe and asylum. She wanted to come to Europe, she said, to become an astronaut, to meet the Queen and to learn how to walk.
In her strong, positive voice, Nujeen tells the story of what it is really like to be a refugee, to have grown up in a dictatorship only for your life to be blighted by war; to have left a beloved homeland to become dependent on others. It is the story of our times told through the incredible bravery of one remarkable girl determined to keep smiling.
'The River and the Book' by Alison Croggon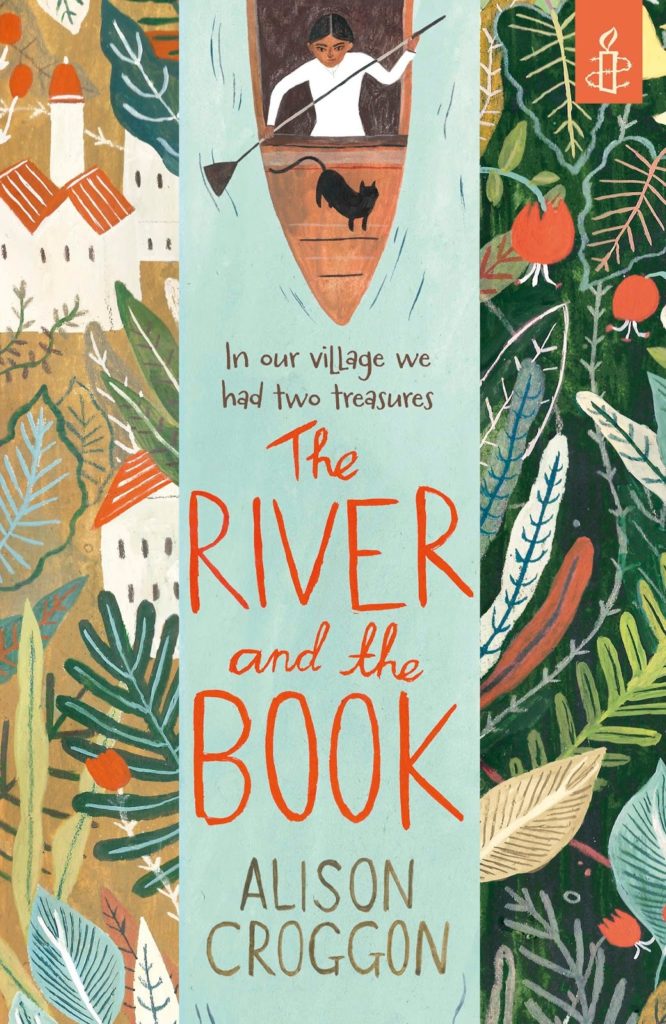 Combining magical realism and fable, this lyrical tale is the story of a landscape and community destroyed by Western greed. From the internationally bestselling author of the high fantasy series The Books of Pellinor comes a powerful story about the exploitation of indigenous people by the First World. Endorsed by Amnesty International as contributing to a better understanding of human rights, this poetic coming-of-age story combines magical realism and fable, and features beautiful black-and-white chapter illustrations. Simbala's village has two treasures: the River, their road and their god; and the Book, their history, their oracle and their soul. Simbala is a Keeper of the Book, the latest in a long line of women who can use it to find answers to the villagers' questions. As developers begin to poison the River on which the villagers rely, the Book predicts change. But this does not come in the form that they expect; it is the sympathetic foreigner who comes to the village who inflicts the greatest damage of all.